<!Picture in a table to give the notion of a caption>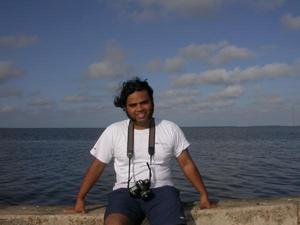 Sanjeev Dwivedi (Picture by Jitesh Panchal)
My first (serious) camera was a Nikon N65 bought somewhere in mid 2001 after reading recommendations from
Philip Greepspun's
photographic site,
photo.net
. Since I am no
dickless yuppie
, I bought a nikon 50/1.8 lens with it and went ahead shooting. For a long time (till Mid-Spring-2003) I shot exclusively in the pre-programmed modes. But deciding I was not getting good shots all the time (and also because I wanted to learn photography better), I decided to operate the camera almost completely in the manual mode. Since I had no idea whatsoever how to go along shooting in the manual mode, I read articles/news posts etc. as well as a few books. Then I bought a Nikon 20/2.8D Wide angle lens; again following Phil's guidelines. What I learned somewhat painfully (even though it seems obvious now) is that a 20mm lens is not exactly suitable for taking pictures of human subjects (especially portraits).
Nikon was offering some cool rebates on Coolpix 4500 so I bought one. Even though it is not the same as my SLR, I did learn operating the camera in manual mode pretty well I would say. Sometime between the 20mm lens and the Coolpix, I bought a tripod (Bogen 3021BN) and ballhead (484RC2) as well and learned the joy of a tripod. Yeah, believe it or not, after you start using a tripod, you seem so very limited when you do not have one handy.
Since I mostly like taking pictures of people interacting (and also individually), I decided to get a Nikon 105/2.8D Micro lens. In one sentence, this is an awesome lens. Extremely sharp pictures and nice control on depth-of-field for portraits. With this lens, my SLR kit is complete and the next purchase has been postponed indefinitely (i.e. until I learn very well the situations where I need to use each particular focal length). Most probably it will be a zoom lens. I am expecting at least one year delay for this one.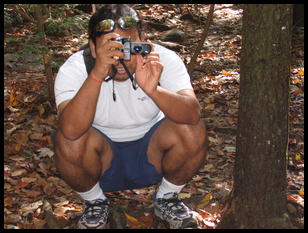 Sanjeev Dwivedi (Picture by Jitesh Panchal)
Lot of water has flowed below the bridge and since that purchase, I bought a Nikon D70 + 18-70mm ED DX AFS (27-105mm 35mm equivalent) and a 80-200mm f/2.8ED. I had a reservations against the 18-70 because it is a digital only lens and also because it is available only as part of a kit. Since buying it however, all my doubts have been put to rest. It is a beautiful lens, much unlike the cheap-ass lenses that come with kits. It is very light, virtually silent, extremely fast in focussing and covers pretty much all the focal lengths that I would need on a general hike/excursion. The 80-200mm is a beast. It is 3lbs in weight (approx 1.5kgs) and is quite difficult to handle on a hike. Maybe I need a monopod.
Overall, I consider myself to be a novice advanced amateur in photography. I wish I could learn along with a more seasoned photographer. If any seasoned photographer would like to have my company (on weekends and holidays), I would be happy to provide it. Photo.net says that "Photography is the recording of light rays", I have been recording the light for a long time now. I have seen work by some other good photographers and many of them manipulate light very well. I wish I could work with someone with some in depth knowledge of light manipulation. Then I could probably paint with light. I fear it involves flash photography and studios.
My photography spree goes on and off; whenever I have photography news, I post it here
Pretty much all news now go on the
weblog.
There are a few good sites on photography that I have benefitted from:
---
sanjeev@pratapgarh.com