| | |
| --- | --- |
| | The man and the story |
---
Realize that you are delving into the mind of an unknown person (potentially), so beware of what lies therein. You might find beauty, dark vales or foggy swamps; beware, lest you get entangled in this personality (the dark side of me is here ). Enough warned, lets take a dip now. My motto in life:
Not a soul am I, that dreams and sighs,
In fire, I forge it to steel,
And lay foundations on it, for a new home,
And on it, I raise walls of steel.

-Ramdhari Singh Dinkar (National Poet of India)
A few facts:
My dressing sense was particular dorky till my Masters. Skeletons from that era can still be found in my closet.
My room is extremely disorganized. Notice the choice of words, disorganized, not dirty! Some people tend to think they are the same. Even though many times I can get my room in a semi-organized state, the table cannot be. I have given up owing to the second law of thermodynamics (Entropy always increases).
I have long hair. I also used to have unusually long sideburns. They almost bordered on being called beard. For some weird reason, I got rid of the sideburns.
Alright, enough of the facts. Jeez, it seems like I am a robot giving my introduction. Hello, I am model R2-D2, my processor is XY GHz.

I am a member of the

Georgia Tech Traditional Taekwondo club.

I joined this club in Spring 2004. Previously, I used to do weight training, I never noticed any change in my physique during the weight training, but Abhishek Ghosh told me that my biceps and forearms have grown considerably. Considering that Ghosaldo knows me since my IIT days, I am tempted to believe him. I did a lot of weight lifting for almost 2+ years (at
University of Pittsburgh
and at
GaTech)
, but ever since I left Pitt(TM), I could not find a partner as reliable as Ananth Kini.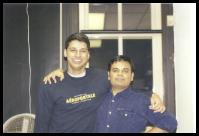 Ananth and Me
My weight considerably over what it should have been and my tummy starting to poke holes through my T-Shirts, I decided to join a group activity which would keep me motivated.
Prahlad Fogla and I did an Internship in India together. We stayed in the same apartment for over two months. He is a brown belt in Taekwondo now, so I asked his opinion and joined the class. I have been very happy with the class. Dr. Speyer (our Instructor), is very good at the way the class is conducted and he instructs us the way engineers understand. "Twist and use the momentum to define the block"..., you get it, don't you? I lost over 13 pounds in Spring. For some reason, my weight has been static ever since summer started. I guess I need to take some more severe measures.
I am an amateur photography enthusiast. I have described my photographic journey
somewhere else.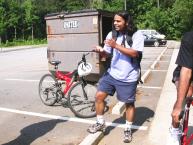 Me with Bike (photo by Richard Liston)
I am a biking enthusiast also, well not really that much, but I am. I used to have a Hercules bicycle in India which served me for a long time till I entered the college. It was fun because many times I used to give rides to Rajeev. Rajeev learnt the bicycle riding after me and initially got a bad reputation. The reputation has just stuck, though he has become quite proficient. In US I have owned three bicycles so far. First one was taken for free from Abhishek Soni at Pitt. I rode it for like 2 months before coming to Atlanta. The first bike in Atlanta was stolen from in front of the MARC building. I got another one from Walmart, It is not a very great bike but serves its purpose. Recently, the NTG group went on a biking trip. The bike served good on the trip.
I also tried rollerblading. I bought a pair of rollerblades and for a long time, practiced on the roof of GCATT parking lot. It was kind of dangerous, but I did it nevertheless. On my first day rollerblading there, two fellas helped me out a bit by giving me a few tips. Now I can stand and rollerblade on flat surfaces. I still do not know how to use the brakes to stop and often resort to falling on my hands (I use protective gear) to stop. Ugh, one of these days, I will take lessons from someone and get better. For now, my rollerblades rest.
I am a big Camping and Hiking enthusiast, I have been on many hiking and 2 camping trips. I started these two things after I came to Atlanta. Matt Sanders organized the trip for the Network and Telecom Group at College of Computing, Georgia Tech and it was real fun. The trip was to Panther Creek. If you ever get a chance, go visit it. Most of my travel stories are annotated with images and presented here
Me concluding a hiking trip
(Pic by Jitesh Panchal)
Trying to light a fire on my
first camping trip
(Pic by Himanshu Raj)
Richa (Himanshu's wife) and I
playing witch and warlock
(Pic by Jitesh or Himanshu)
"...You are a very good storyteller, better than you are a computer scientist." , claimed Qi He. I had been telling her stories about indian Gods, Godesses, their offsprings and the mythology in general. Ever since I was a kid, I was a addicted to reading. My parents told me that once I had been introduced to the alphabet, I started reading within 5 days. I guess, I just never stopped reading. I used to ( and still do ) read whatever came across my hands. When I was a kid, dad used to bring literary novels from the school library. Often times I was prohibited from reading those books, but once dad had fallen asleep, I used to read them under the bed. I read all my elder sister's and brother's books as well. So anyway, I don't recall how, but I started telling stories; stories that I had read somewhere, interesting stories; stories relating to unknown lands, adventures, science-fiction and so on. Now come to think of it, I have often told stories to people much much older than me, even when I was a kid. So I guess, the same attitude just passes into any narrative that I give. It is visible in the articles I write, the way I speak and so on. Recently, I watched the movie called "Big Fish". It is the chick flick equivalent for guys. A really nice movie about how a young man finally reconciles with his father at the old man's death bed. The old man was a story teller and the young man always thought that his father was a fake man, telling lies all his life.

Appaji is an old friend of mine from college. We did all our projects together along with Sharath. After coming to US, we haven't met. Sometimes we happen to be on Yahoo Chat together. During one of our chat sessions, Appaji suggested that I keep a weblog, so that friends might know what is happening in my life. So, I started to keep a Web Journal
---
sanjeev@pratapgarh.com